Geissler Tubes
• Uses Uranium glass.
• Bombarded and filled with Argon and Mercury.
• Samples are pictured above.
• No two are exactly alike.
• Order a general style.
* When ordering, please describe tubes from left to right numbered 1 to 6.
Other designs can be made. If you would rather have the glass blower make his
own custom design for you, then please make note when ordering.
• Each tube is $60.00 plus $10.00 shipping and handling to any address in the US.
Crackle Tubes
​

• Crackle tube measures 25 mm in diameter and approximately 30" in length.
• All tubes are protected by 2.5" acrylic tubing with covers on each end.
• Wires to power tube are available at the lower and upper part of the tube.
• Available in NEON(bright red) or ARGON (pale blue) filled.
• Crackle tubes filled with chips of 5 mm glass tubing.
• Tubes shipped world-wide via Postal Service or United Parcel Service.
Please allow 6 to 8 weeks for delivery.
Complete tube (minus transformer): $200.00.
• Please note: Transformers are sold separately. Old beer sign transformers will
work nicely with these tubes. See Transformers tab.
Tesla Neon Signs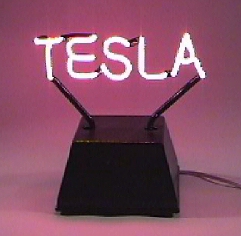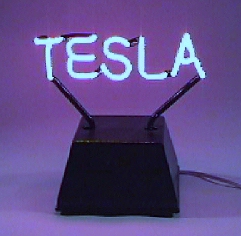 • Made from 8 mm clear red Neon or Argon filled tubing.
• Mounted in a ceramic transformer base or plastic economy base as pictured.
• Ideal for any Tesla lab.
• Great for demos and fun.
• Lasts for years.
Complete sign as seen here, $150.00 plus $20.00 s&h.
Ceramic base add $10.00.